You are far more extraordinary than you think
Each one of us is capable of so much more than we have experienced.
Re-Wilding the Warrior Woman helps guide you into your primal power
What I do inside of this circle is guide you in understanding and seeing how extraordinary you truly are.
You will learn how to re-wild as a warrior woman coming back to your true primal nature and deeper understanding of how extraordinary you truly are

You will learn how to nourish your body with the kinds of nutrition that brings you health and strength as a female athlete
You will learn the kinds of training and training sessions you should be doing as a woman to bring you strength and power in your sport
You will learn how to reconnect with yourself and create a soul led personal journey of inspiring growth through your sport
You will learn deep self belief / new inspiration & how to connect back to self as well as create wellness & strength
About: Re-Wilding the Warrior Woman 
If you are drawn to pursue your personal journey in triathlon or duathlon then your athletic journey is the expression you have chosen to experience and create your self growth. This is a beautiful and inspiring thing as it brings you into your own hero's journey of a warrior woman.  
"A Warrior Woman trains both her body and her mind. Because training just one only gets you half way there. So let's train the whole you so you can become a true warrior."
The warrior woman's journey is about truly connecting body and mind and doing all that is possible to create physical and emotional strength and wisdom.  
This is a place for female triathletes (and endurance athletes) to learn how to step into their power through the art and science of re-wilding. Re-wilding here means connecting back to self, our true primal nature as a strong female, the beat of Mother Earth and the power of our feminine selves as it pertains to strength and power in your sport. It also means learning what is truly supportive and right for our female bodies when it comes to female athlete nutrition, training and the other important areas that create real strength and wellness in our bodies. It is about honoring that women are different than men and learning how to more effectively support building real strength with what is naturally important for our bodies. 
The Warrior Woman archetype is a great description here because a true warrior woman trains both her body and her mind to become the strongest woman possible in her body, mind and soul.  And she accesses her ancient knowing that her strength is extraordinary.
I am your guide in your warrior woman training. I live and breath a life and journey of mindfully and consciously re-wilding in my own personal journey of growth in triathlon. And I have years of experience as an elite triathlon coach as well as years of experience in guiding athletes in seeing how extraordinary they truly are.  
I am also gifted at holding space and helping athletes see the extraordinary in themselves. 
Each month we circle together virtually (on our Warrior Woman online platform and on Zoom together) so that I can guide you in a special subject for your Warrior Woman training. Each month you will have the option to use the monthly focus challenge if you feel called to participate (it is very popular). The monthly challenge pertains to the subject you are learning which gives you a practical and actionable way to use your warrior training. You can choose to do this challenge or simply learn it depending on what resonates with you that month.  
The monthly subjects are powerful, inspiring and will shift your journey forward in the positive.  
Each month you will experience the following inside of our private circle's magic platform 
You will experience the monthly focus teachings in a posted video from me 

A written description and in many cases a downloadable sheet for reference posted with the video 

As well as an inspiring guided visualization / meditation or inspiring audio that you can download to your device 

And a monthly ZOOM together with me and your Warrior Woman sisters in our circle.  
As Warrior Women Re-Wilding we learn to honor our bodies as women. You will learn the specifics of what your body needs to thrive more and this includes specifics for menstruating women as well as menopause women.  
Our Warrior Woman Circle is International Zoom times are scheduled to include out women in many Countries.
If this resonates with you then join us in the WeTri Warrior Woman Circle.  
What to Expect in the circle
Stay in Touch
Receive Inspiration & Updates from Me!
Academy Question?
I would love to hear from you...
WeTri Women Experiences...
"Very proud to say that I am a part of the Coach Kirsten's Women's Academy. Learning how to fine-tune my nutrition long with my workouts. Really exceited about what is to come. If you're looking to get fit and healthy with an amazing support group of women, I highly recommend!!"
Stacy Sopora — Germany
"WeTri Academy is AWESOME! You learn a lot about how to be the best rider, runner or swimming you can be. You learn about nutrition and training specifically for women. Check it out online. WeTri Women's Academy is well worth it!"
Tracey Snapp — Indiana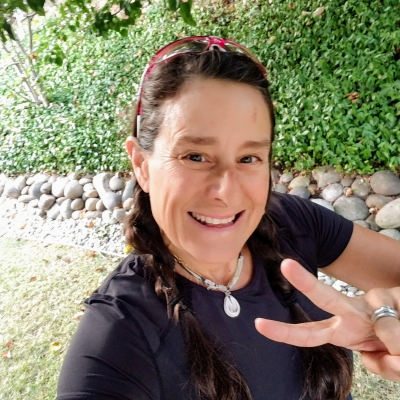 More About Kirsten
I am an elite triathlon coach. "Elite" means that I coach professional and pro-development athletes who race triathlon for a living. I also specialize in the science of women-specific training ,to create real progress for women of all levels and ages. My women's programs have taken athletes to levels of performance they never dreamed possible for themselves. That is the most rewarding part of my work — seeing the women that I coach accomplish things beyond their goals and creating their new possible.
My approach to coaching is to teach and inspire the athlete. By doing this, I am empowering my athletes with knowledge and real information that works on how to create more strength, fitness and deep self belief.
I am passionate about teaching my athletes real information that they can use immediately in their journey to create their new possible.
---
It's a Global Community
We have members from around the world...Join Us!
---
Anna talks about the circle
Academy member Sorcha on the Program


Zwift, the Z logo and related Zwift images are copyright Zwift, Inc. Zoom and the Zoom logo are copyright Zoom, Inc.